Huma Adnan Launches Alluring And Socially Conscious Fragrance Line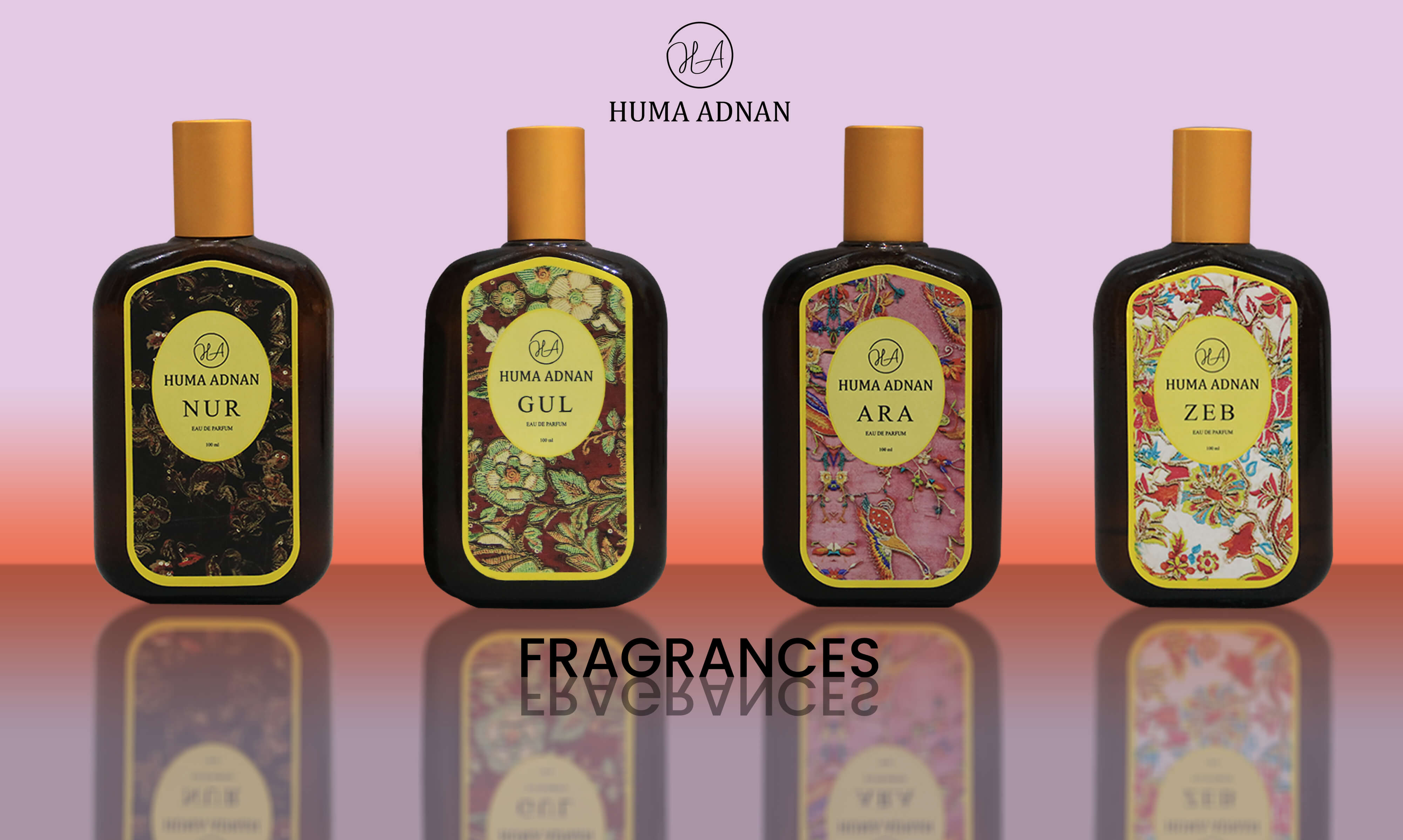 The world of fragrances is one that celebrates the very essence of life. Inundated with vibrant colors and supplementing one's life in a multi-fold way, it is this very commemoration that has been Huma Adnan's calling to venture forth into this realm. With 17 years of creative design under her wing, Huma's inherent exposure to the potpourri of culture that is Karachi, and the pride associated with residing in this metropolitan city, have led her to pursue her passion for creating a line of fragrances that add to every woman's daily life. Her new line of fragrances marry European scents with Pakistani sensibilities, creating a responsible, yet unforgettable experience.
Crafted with pure, extraordinarily exquisite ingredients, Huma ensures that women get the very best of elegance and sustainability, thereby creating a unique, fragrant adventure that not only leaves one with an intoxicating scent, but also evokes a sense of goodwill, knowing that one has taken a step towards conscious living.
"Fragrances define how one is perceived in so many ways," explains Huma, talking about the decision to dive into this venture. "One assumes that picking out a perfume is easy, but to find a signature scent that someone associates with you - whether they await your arrival, or miss your presence - is such a defining factor."
"A lot of thought and research has gone into this," she states. "These fragrances aren't just regular selections. The culmination of  ingredients went through various rounds of critique, with trials on a diverse set of women to ensure longevity, and to achieve the perfect mix of notes."
An amalgam of fragrances from Europe, fused with the cultural flavors of Pakistan, Huma Adnan's perfumes are a staggeringly powerful testament to the nuptials between these two regions. Moreover, keeping sustainability in mind, every single perfume bottle has been created using recycled glass from bangles in Hyderabad.
"Conscious living is not only a goal," says Huma Adnan, talking about this pertinent approach, "it is a lifestyle choice - one that becomes imperative as we take note of the world around us. Being a part of the solution is an approach we must all take. Sustainable living is, undoubtedly, the way forward."
Ara is one of the glorious new scents under Huma Adnan's personal brand. Ara translates to "pretty woman," and, indeed, anyone who ornaments themselves in this scent will feel beautiful. Turn heads and have people take note of you as Ara's mandarin and citrus top notes, along with rose, apricot and peach-infused middle notes, and musky base notes radiate off you every time you enter a room.
A celebration of all things floral, Gul is a breath of fresh air; a fragrance that feels like the warm embrace of nature. For those who wish to engulf themselves in a scent that is fun, and a reminder of being in a field of flowers, Gul is the perfect choice, with its rosy, magnolia-rich, musky top, middle, and base notes respectively.
Transcendent by name and also by its very smell, Nur is an otherworldly fragrance that envelops one in an unmatched sense of radiance. To call the scent divine, with its citrusy, peachy, and fruity top notes, jasmine, tuberose, and coconut-infused middle notes, and sandalwood, vanilla, and musk-integrated base notes would be an understatement.
Zeb - which means 'to adorn' - is, indeed, the perfect companion for all those who encapsulate themselves within the vibrant aura of this scent. This fragrance is a celebration of those who wear it, taking their sense of self to the next level, serving, as its name suggests, to be an adornment that draws in adoration. Its grapefruit and pear containing top notes, pineapple, rose, and jasmine laden middle notes, and vanilla, cedar, and patchouli base notes give Zeb the extra oomph needed to be your next go-to scent.
A labor of love, these perfume lines celebrate the multifaceted nature of the human condition, and are an ode to various traits that people aspire to.
"These aren't just fragrances," states Huma Adnan. "This is an innovative fusion encapsulated within a bottle." It is thus that Huma Adnan invites you all to embark on this thoroughly fragrant journey.