Heartening Sisterhood: Kanwal Ahmed Wears Huma Adnan To Jemima Goldsmith's Film Premiere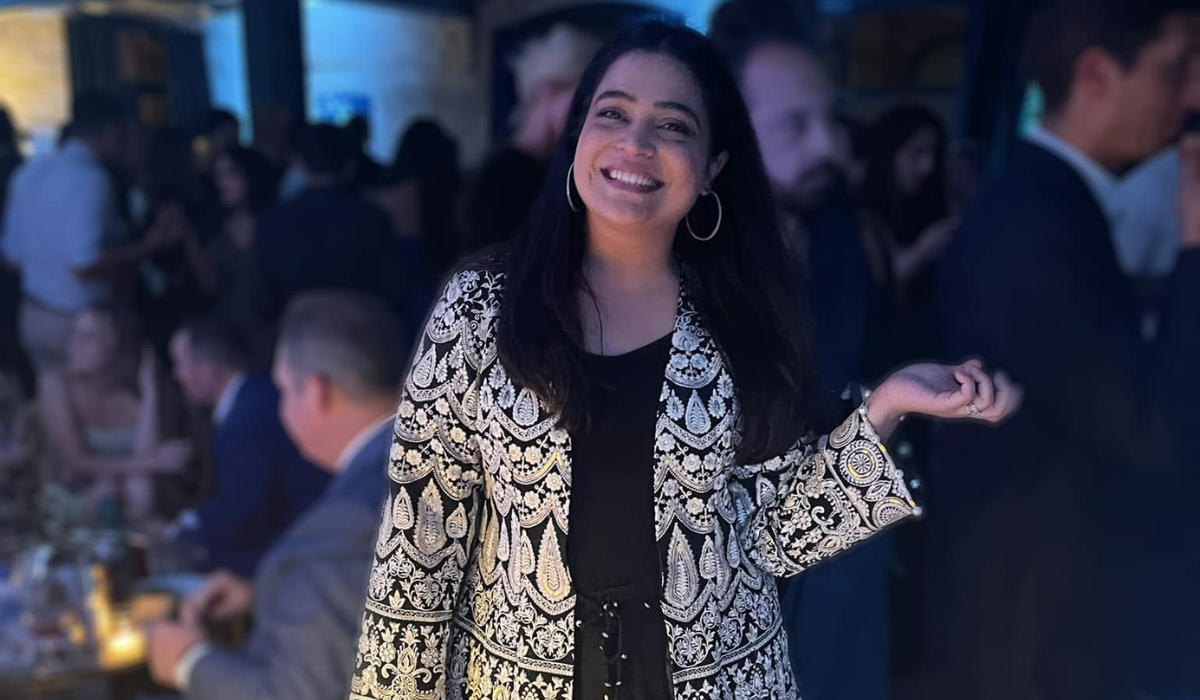 The widely celebrated and beloved Kanwal Ahmed - an entrepreneur, host, and media personality - is no stranger to making moves that disrupt society for the better. Her immensely popular Facebook group, Soul Sisters Pakistan, is one of the largest, all-female digital communities in the country, where nothing is off limits. A sanctuary for women who find it difficult to obtain advice on conventionally taboo topics otherwise, and a place of unlearning for those who find themselves tied up in the vast net of misogyny, Soul Sisters Pakistan is as vital as the mastermind behind it. 
Thus, when Kanwal posted on the group looking for an outfit for an international event, team Huma Adnan and FnkAsia were more than happy to step in and offer our services. We got in touch, laid out a bunch of options, and collectively locked in on the jacket that Kanwal ended up wearing at the premiere of Jemima Goldsmith's new film, What's Love Got To Do With It? 
When we spoke to Kanwal about FnkAsia and Craft Stories, she was bowled over by the sentiment and spirit of activism behind the brands. To have her vision align with ours led to the creation of a truly magical moment. 
"I think it's so important for us to represent who we are and where we are from - our identities - through what we wear," stated Kanwal while talking to us about the experience. "It is a form of expression for others and a feeling of belonging for ourselves to feel grounded as well as [being] proud of our culture in spaces where we are often underrepresented. For me, it is the biggest honour to wear a piece of home, especially when I'm abroad, [that too] from a designer who's been a literal pioneer in the fashion industry of Pakistan: Huma Adnan."
Talking about how the overall look was received, Kanwal shared how she amassed a plethora of praise. 
"I got a lot of compliments on it at the event, as well as online, and the work on the jacket really stood out. I also feel [it] is so versatile and something I would keep wearing [to] future engagements and formal events!"
Kanwal even shed light on how she perceives everything that Huma Adnan has worked for and created thus far, showing solidarity and embodying the essence of sisterhood.
"I think Huma's brand, apart from really financially empowering women in underserved areas, also takes us a step closer to sustainable fashion. Pieces that can last in your closet for years. Quality-wise and versatility-wise, we can count on them to stick around and [they] aren't disposable. We need to be mindful of the [number] of clothes we hang on our racks and what it is [that] we throw away, because the planet and its future truly depend on our consumer habits." 
When like-minded individuals who strive to make the world a better place cross paths, mutual appreciation is always present. Collaborations like these not only prove that a woman is a woman's best friend, but also highlight how important recognition, appreciation, and paving a way toward a brighter tomorrow truly are.