Huma Adnan Takes Stories Of Indigenous Artisans To Paris, Creating Milestone For Pakistan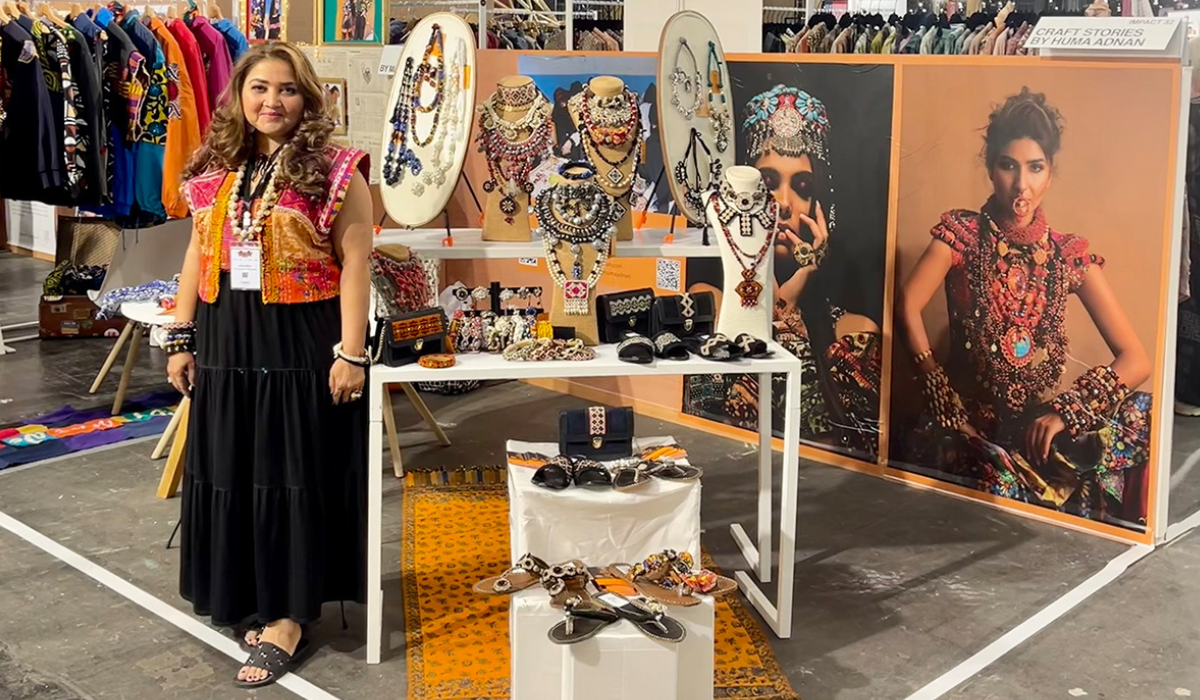 There comes a pivotal moment in every individual's life, when they realize that giving back is essential. After all, with the world around us crumbling under the pressure of man-made and natural disasters, grasping at each thread of goodness has become all the more imperative. Huma Adnan has been doing her part in the form of Craft Stories, where local artisans, who are either refugees, or come from less privileged socioeconomic backgrounds, are trained and paid to create jewellery.
These breathtaking trinkets contain stories of labor, love, loss, and survival. Moreover, they possess key cultural elements that immortalize identifiers of locales and regions of great historical significance. It is these very tales that Huma Adnan took alongside her to Paris, showcasing the same at various points in time. Lending a metaphorical microphone to veiled voices was the need of the hour. With that in mind, alongside her war cry for sustainability and green living, Huma ventured forth, creating incredible milestones for Pakistan in the process. 
Invited as a guest speaker at
the WHO's Next League Paris for the "Inclusion of Women in Creation" panel, in collaboration with 'Fédération Française du Prêt à Porter Féminin,' along with other exemplary speakers, Huma Adnan shed light on the experiences of women who have suffered and persevered, turning to art as a form of cathartic release, all while being empowered to benefit from their work monetarily. 
From Pakistan's Ghizer Valley, to Afghan refugees residing in Karachi, Huma highlighted the work and effort of all the women whom she knows inside out, and in whom she has found immense joy as she continues to fight toward providing them with better lives, all while keeping a preservatory, environmentally-beneficial approach in mind.
"The immigrant crisis, and the plight of refugees is my central focus," states Huma Adnan. "When people are forced to leave their homes, they bring their stories - a reflection of the times in which we exist - and their craft, which is, undoubtedly, unparalleled in its own way."
Additionally, her participation at IMPACT - WHO's Next Paris, led to a stunning display of the environmentally-friendly works of creativity by the women whom Huma continues to champion. The show was a huge success, held at Fondation Cherquei Paris, with Ms Camellia Galley, the wife of the French Ambassador to Pakistan, also in attendance. 
"Every piece in the collection has a special meaning to me personally," Huma continues, "because I know the stories of each and every artisan with whom I have worked. The collection is an expression of their personal journey and is crafted with the resilience and passion of a gut-wrenching, yet inspirational tale."
In addition to this, the proceeds of the jewellery created for the show are to be donated to ailing Pakistanis impacted by the recent floods. Given that the matter at hand is vital to discuss and positively contribute to, it is befitting that humanitarian efforts extend to our own brethren in their time of need. 
Placing emphasis on empathy, Huma Adnan also puts green living at the forefront when it comes to her work. In a world that has embraced fast fashion at an alarming rate, especially at a time when the climate crisis has become exceedingly pertinent to address, Huma doubles down on the need to integrate, propel, and propagate the need and importance of a sustainable lifestyle. Furthermore, positing recycling as a pivotal pillar of her brand mission and motto, Huma Adnan utilizes recycled material when working on her designs. 
Huma Adnan's work has always operated on a multi-fold layer. Her entire portfolio carries with it the spirit of transformation. Be it her humanitarian effort, that constructs a better world for refugees and women from inclusive communities, or the way a woman feels when donning these crafts that are vital to the preservation of history and culture, Huma is sure to leave behind a legacy of positive change, that doubles as an ode to the land she loves with all her heart.