Empowerment Through Art: A Conscious Life With Huma Adnan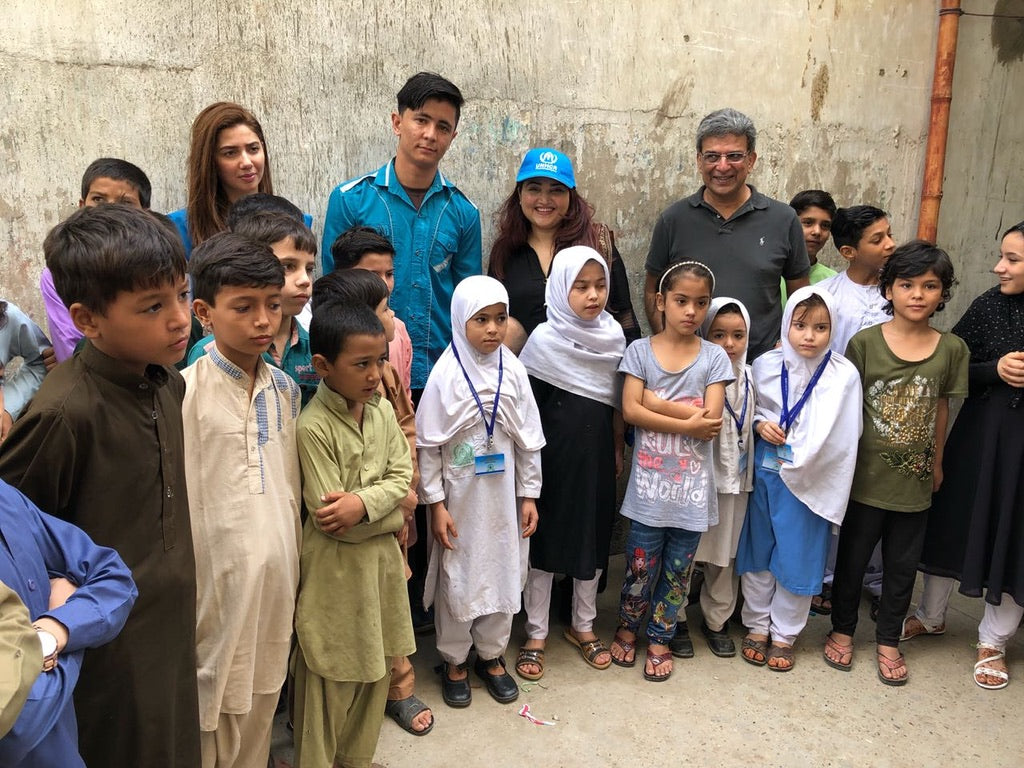 Entering the premises of Amir Adnan's head office in Karachi, one is greeted with a kind, reassuring smile by Huma Adnan, the mind behind numerous brands under the parent company's vast, ever-expanding umbrella.
The conference room at the office is a testament to her journey, with numerous accolades celebrating her humanitarian efforts. It is her extensive work with the United Nations in which she takes the most pride, as she walks one through the plethora of awards recognizing her efforts.
Born and raised in the cosmopolitan city of Karachi, Huma started her life as a banker. However, she moved onto the world of design by launching the very first fusion brand in the country. Her craftsmanship journey began with her paying homage to the women of Dadu, Sindh, and she later paid tribute to the mighty women of the mountains. A gypsy spirit, Huma devotes her time to a variety of initiatives seeking to incorporate a marriage of indigenous cultures and sustainability.
Whether it's Craft Stories By Huma Adnan, where she empowers refugees to create art in the form of jewelry and masks, or FnkAsia, where she excels in the realm of innovation, or her line of bridal couture, Huma Adnan truly does it all. Her new focus is towards environmental issues like global warming, alongside other worldwide social crises, which has led her to work towards socially responsible craft. As green fashion grows and evolves, Huma is immersed in creating a capsule collection of fashion accessories made from ocean and plastic waste, paper, and upcycled materials.
"Every piece of jewelry has a special meaning to me personally," says Huma, beaming with pride, indicating just how personal the process is for her. "I know the story of each and every person who has worked on Craft Stories."
Often, it becomes far too easy to see women as extensions of the men around them. However, Huma Adnan, despite being married to the fashion giant Amir Adnan, has cemented her own name within the Pakistani fashion industry and beyond, owing to her creative genius, and the brilliance of her mind that empowers her to not only create, but also effectively strategize and market her masterpieces. In turn, she gives back by inculcating this very skill set within all those who work alongside her - mentoring, guiding, and collaborating at every given opportunity.
Thinking outside the box is Huma Adnan's forte, as is evident through her fusion label, FnkAsia, which boasts of numerous collections that are, undoubtedly, suave. Weaving elegance and style into every stitch, Huma Adnan's creations stand out amongst a highly populated and competitive industry.
Where FnkAsia is an absolute head-turner, Huma's bridal wear is also a class apart. A breath of fresh air, her bridal designs aren't just a celebratory nod to our heritage and the very sanctity of the institution itself - they are also, to put simply, undeniably cool. A Huma Adnan bride is one that people remember, for she sets herself apart by opting for invigorating design. 
However, it is Huma Adnan's labor of love in the form of Craft Stories that truly showcases her desire to combine art and social causes. Working with refugees from inclusive communities, Huma Adnan has empowered numerous artisans, providing them with occupational opportunities, while also giving them a creative outlet.
"I have always been one to empower and encourage women with the will to follow their aspirations," states Huma Adnan, while talking about the vision behind Craft Stories. "I believe that we, as fashion influencers, have the potential to start new economic cycles and as my brand already utilizes indigenous crafts from different parts of the world, I love polishing their craft and training their business acumen. "
The narrative that is presented through Huma Adnan's work is the very basis on which this nation has been built. All her brands tell the tale of Pakistan in their own way. Be it the story of resilience that is evident through Craft Stories, or one of the rich cultural influences embedded onto the fabric of our nation's history, as highlighted through FnkAsia, Huma Adnan's work is a heartwarming and breathtaking ode to the country she so dearly loves.