Behind The Scenes With Hareem Farooq and Fisher Neal For Amir Adnan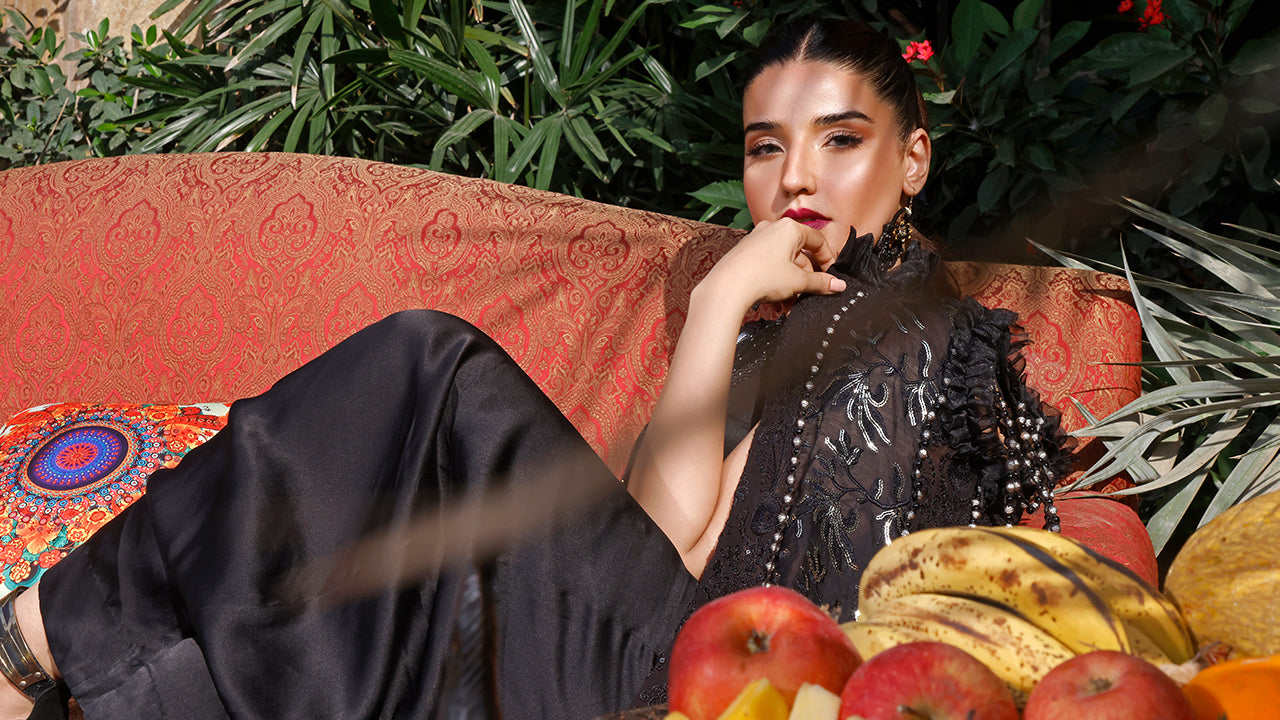 Set up within the abode of Amir Adnan and Huma Adnan, the TI AMO shoot consisted of a flurry of activity. Actress Hareem Farooq sat with hair and make-up, perfecting her look for the shot in question, donning FnkAsia and jewelry by Craft Stories By Huma Adnan. The visitor from America, actor Fisher Neal stood decked in Amir Adnan, looking like the very picture of regality.
Maneuvering through the hustle-bustle of the shoot gave space to interviewing both Hareem and Fisher, getting exclusive behind-the-scenes intel, as well as conversing with the two actors about their varying experiences.
Fisher was able to spare two sittings - one before the many shoots, and one after. At both times, Fisher seemed elated to be on the premises of a shoot for a Pakistani brand - admittedly, his first similar endeavor for the nation.
"I've worked in the US," Fisher stated whilst expressing his sentiments with regards to the shoot, "but it's so exciting to come to another country like Pakistan, which is so different and so rich." Fisher, who also wore Amir Adnan for his wedding in Pakistan, stated that he loves Amir Adnan. "It just fit me right out of the box," stated Fisher. "Coming from the West, it was my first time putting on a shalwar kameez. But now, I really love it and I've learned how to be comfortable in it. It's the best."
Fisher, who has met Huma and Parishae Adnan before, made his exhilaration regarding the collaboration be known. However, he was also excited to work with Hareem Farooq, on whom he had conducted a fair bit of research beforehand.
"I found out I was working with Hareem and naturally, I looked her up. I was really impressed with her resume. I'm also impressed by the fact that she's a producer. It's so important for women to be able to take control of the narrative."
The actor also shared his thoughts on working with Huma Adnan and Amir Adnan. "Working with them has been just unreal," Fisher exclaimed. "When I first started trying on clothes from this side of the world, I felt like an imposter. To be invited here and be given an opportunity to model these unbelievable clothes is amazing, unexpected, and wonderful."
Hareem Farooq shared a similar train of thought when asked about working with the fashion-forward power duo. She shared her joy with regards to the collaboration, alongside her anticipation as to what the final result would look like. When asked about working with Fisher, Hareem had the following to say:
"It's been absolutely delightful. He's a wonderful person who has a lot of passion for acting and Pakistan, which is great! He's also learning the language!"
Talking about Craft Stories By Huma Adnan, Hareem lauded the effort, and Huma, pointing out how it is a great initiative. "I personally believe there is a lot of talent in Pakistan of all sorts and it needs to be projected, especially on an international level. It's great for people who don't have access as well. It's something very selfless."
Hareem also encouraged people to take green living more seriously, highlighting how individualistic responsibility is key, and should be inculcated in one's daily routine.
"We're so caught up in ourselves that we rarely care about how our actions impact the world. If we incorporate this approach, we can lead to a bigger change."
Hareem also displayed her humor and wit when asked about describing FnkAsia in one word, to which she responded with "Fun-kasia," with a chuckle.
Further details regarding the shoot are on our blog, and the video is up on all social media platforms. Moreover, everything worn by Fisher Neal and Hareem Farooq can be found at amiradnan.com and humaadnan.com.