In Conversation With The Ghizar Valley Artisans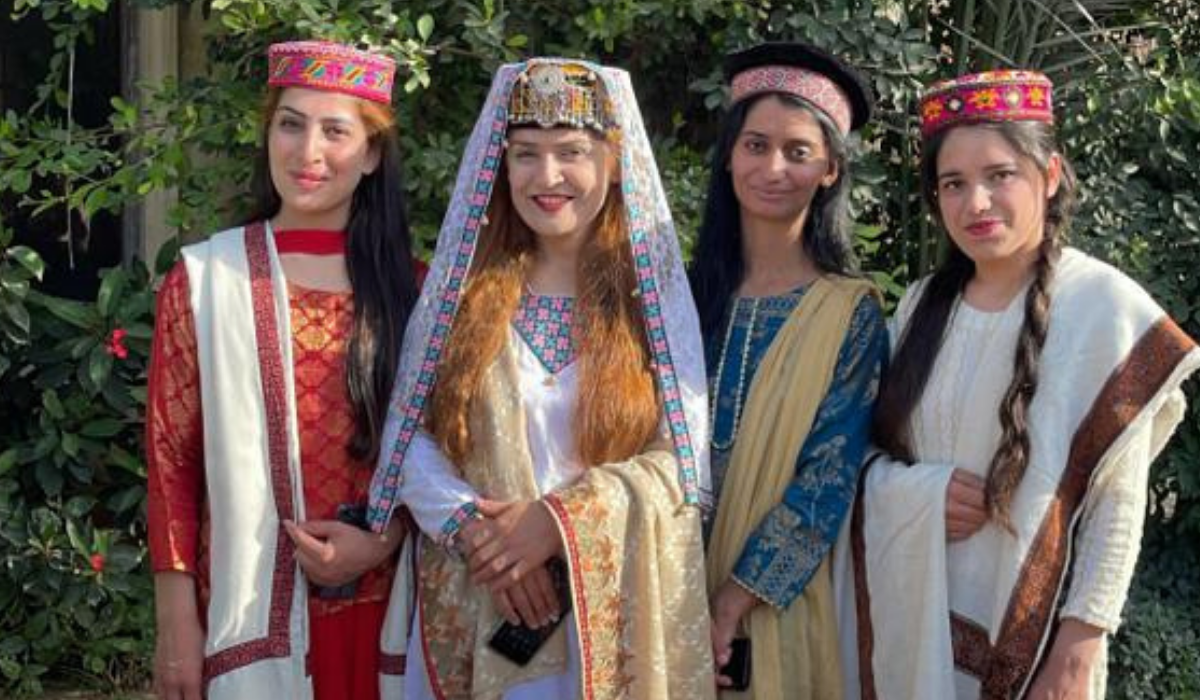 Traversing the long-winding path from Pakistan's beautiful Ghizer Valley, a few aspirational artisans made their way to Karachi, facilitated by the mindful arms of the Aga Khan Economic Planning Board. These craftswomen found themselves at the headquarters of Amir Adnan's operative office, where the man himself, and Huma Adnan, took these bright individuals under their wing for a training program. 
Sitting across Shaheen, Abida, and Nazneen, one can tell that they are equal parts excited and pleasantly overwhelmed. As they get comfortable, showing the necklaces, bangles, and earrings they have made, they discuss their future plans and open up about the time they have spent at The House of of Amir Adnan.
Shaheen, a stunning, ambitious beauty who is also a graduate, dons an embellished hat that is significant in her culture for women, especially when it comes to celebratory events. Talking about her journey from Ghizer to Karachi, Shaheen sheds some light on life back home, and her perception around the city of lights, as well as working alongside Huma and Amir Adnan.
"I used to do embroidery work in Ghizer," begins Shaheen. "The work was done according to the requirements and standards of that space, but I wanted to do more. The Aga Khan Economic Planning Board interviewed me, and once I passed the test, they brought me here to Karachi to Huma Adnan and Amir Adnan. This is where I began my training."
Shaheen is profusely grateful to the Aga Khan Economic Planning Board for the opportunity, but also ventures forth to express her gratitude towards her mentors in a new space, who guided her with the utmost attention to improve upon her craftsmanship. 
"I am thankful that Huma Ma'am and Amir Adnan Sir helped us learn everything we did, and explained to us how we could better our work to make it commercially viable as well."
Abida, who has studied up to the matriculation standard, takes the hot seat next to elaborate upon her experience throughout this educational excursion, echoing a lot of Shaheen's thoughts as well. 
"I learned how to work on embroidery after I finished my matriculation," Abida states. "I was taught by the woman who has accompanied us here. I have always been interested in sewing and I decided to pursue that as my passion."
"I have really enjoyed myself in Karachi, but I especially want to mention that Huma and Amir Adnan have been exceptional to work with. They're good people, who have imparted a great deal of knowledge to us. I didn't even realize that we could do so much more with our skills, till we were taught the same."
The meek, yet thoroughly talented B.A. pass Nazneen converses next, keen to share details about her high hopes regarding the entire coaching program, alongside what the coming years may hold for her.
"I have always been intrigued by the world of design," Nazneen says. "My aunt taught me the basics, and I would focus immensely on how she would go about stitching and creating art, as if out of thin air, from raw materials. Back home, I opened a shop, and the people from Ghizer were always enthusiastic customers, especially around the wedding season. However, around the year, we make wallets for men, cushions, and other common-use items, for sale."
"I am absolutely thrilled at having received this opportunity, " Nazneen goes on to state. "I have acquired many new abilities, all of which I can take back and utilize to further my profession."
As the tête-à-tête draws to a close, Shaheen, Abida, and Nazneen giggle amongst themselves, photographing each other while wearing their own creations, and feeling like superstars as they ask to see videos that have been made in the process.
Filled with glee, they are also ecstatic to return home, where they can take their newly-imbibed tutelage, and put it to use. You can support them by buying their handiwork on our website.