Reviving Art and Lives: Huma Adnan's Journey of Cultural Sustainability and Empowerment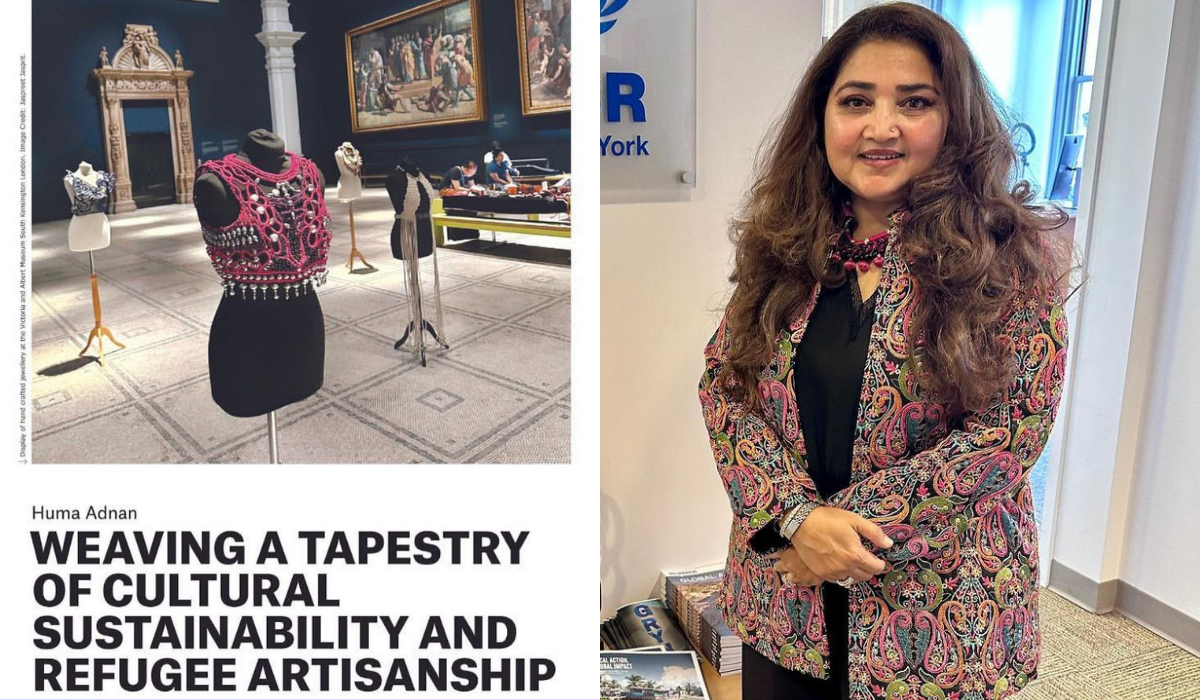 Huma Adnan recently made waves, featuring in TAKE on Art's 29th issue on Sustainability in a piece titled, "Weaving a Tapestry of Cultural Sustainability and Refugee Artisanship." The article, beautifully penned by the creative force herself, shed light on Huma's tireless efforts as a visionary and giant in the world of Pakistani fashion. The coveted atelier's commitment to sustainability and dedication to empowering Afghan refugee artisans and women from Pakistan's Ghizer Valley have made her a beacon of hope and change in the world of stylistic and cultural preservation, and the article highlighted the same.
The point of view presented by Huma emphasized the importance of cultural sustainability in an ever-changing global landscape from Huma's perspective. As an advocate for change, Huma let it be known that she firmly believes in the might of fashion, and how it is an undeniably powerful tool in preserving traditional crafts and promoting sustainable practices that not only revive dying art forms but also empower local communities. Keeping cultural elements alive, especially through the intersection of Afghan refugee artisanship and sustainable fashion, is at the heart of her work.
Huma's work is deeply rooted in creating timelessness around cultural traditions, including hand embroidery, thread weaving, block printing, and the innovative use of recycled and upcycled materials in modern fashion. As a livelihood collaborator with UNHCR, her efforts go beyond aesthetics; she actively nurtures young talent, such as the underprivileged women from the Ghizer Valley in Hunza. Her initiatives offer opportunities for artisans to learn about their heritage and develop the skills necessary for their craft, whilst financially uplifting them as well.
The feature in TAKE on Art's 29th issue also put FnkAsia into the limelight - one of Huma's well-known brands, which is built upon fair trade practices that empower local artisans. Through ethical sourcing and providing sustainable livelihoods, Huma ensures that artisans receive fair compensation for their skills, improving their economic well-being and instilling pride in their cultural heritage. Craft Stories, another brand under her creative umbrella, extends financial empowerment to women from displaced communities. Through collaborations with these artisans, Craft Stories revives endangered crafts, fostering a harmonious blend of creativity and resilience.

Refugee artisanship, as Huma highlights, plays a profound role in cultural sustainability. For individuals forced to leave their homes due to conflict or other challenges, practicing their traditional crafts becomes a powerful means to reclaim their identities and rebuild their lives. By providing vocational training, fair pay, and platforms to showcase their skills, Huma facilitates artisans to become custodians of their cultural landscapes. Their crafts become living testaments to resilience, cultural diversity, and the intricate connection between art and the human experience.
Huma's work is a testament to the fact that fashion and cultural preservation can go hand in hand, creating a brighter future for displaced communities and artisans while celebrating the beauty of traditional craftsmanship. Her dedication and vision serve as an inspiration for the fashion industry and beyond, demonstrating that sustainability and empowerment are not just buzzwords but actions that can drive real change in the world.