Huma Adnan, TCF Ohio join hands for positive change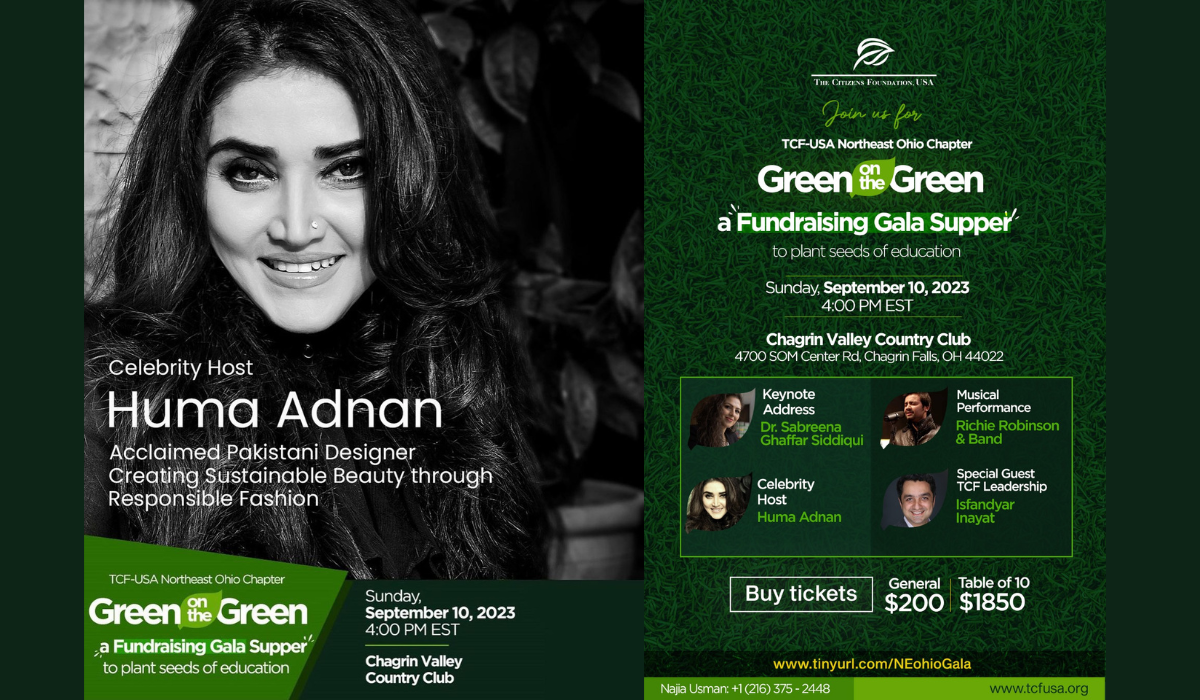 In a remarkable collaboration driven by a shared commitment to humanitarian causes, education, and empowerment, renowned fashion designer Huma Adnan and the Ohio chapter of The Citizens Foundation (TCF) have come together to create a powerful synergy of impact and purpose. Huma, a prominent figure in the fashion world, has emerged as a beacon of change, not merely through her clothing designs but through her dedication to sustainability and empowerment. Her work extends far beyond the runway, as she champions the talents of Afghan refugee artisans and women from Pakistan's Ghizer Valley. Partnering with the UNHCR, Huma has gone beyond offering employment; she has created sustainable livelihoods and fostered self-sufficiency.
But her influence doesn't stop there. Huma has taken her message to global stages, advocating for the inclusion of women in creative endeavors, notably at WHO's Next League Paris in collaboration with the 'Fédération Française du Prêt à Porter Féminin.' Her efforts are deeply rooted in preserving endangered crafts and uplifting underprivileged artisans. Recently, Huma orchestrated a spectacular sustainable fashion and jewelry showcase at the revered Fondation Cherquei in Paris. It wasn't just a fashion show; it was a powerful statement of her commitment to ethical craftsmanship and empowering marginalized communities.

Taking her mission to new heights, Huma led a workshop titled "Compassionate Jewellery" at the prestigious Victoria and Albert Museum in South Kensington. This unique event transcended the boundaries of creativity and compassion, inviting participants of all skill levels to explore the art of crafting exquisite jewelry pieces. Through her work, Huma is not only creating beautiful adornments but also shedding light on the stories of refugees, reflecting her unwavering commitment to humanitarianism and sustainability.

Through her collaborations with the UNHCR, Huma personally mentors and uplifts these artisans, providing them with sustainable incomes and fostering self-sufficiency. Furthermore, Huma has actively advocated for education and women's empowerment as a Pakistan board member of CalPak Education Services. She has received recognition from esteemed individuals, including Mayor Eric Garcetti, Chief of Police LAPD Charlie Beck, and Members of Congress Ed Royce and Judy Chu. Huma is also a member of the American Muslim & Multifaith Women's Empowerment Council (AMMWEC). Her creations were showcased at the residence of the Ambassador of Türkiye, a UNESCO heritage site in Washington DC, an event attended by First Ladies from various countries who wholeheartedly appreciated the culturally rich craft presented by Huma.

On the other hand, the Ohio chapter of TCF has been a beacon of hope in the education landscape. Founded by a group of citizens who envisioned positive social change through education, TCF has grown into a pivotal organization dedicated to providing quality education to the less privileged. TCF's mission aligns perfectly with Huma's commitment to empowering marginalized communities. Over the past 28 years, TCF has built schools, trained teachers, raised funds, and educated children from underprivileged backgrounds, breaking the cycle of ignorance and poverty.

What unites Huma and the TCF Ohio Chapter is their shared belief in the potential of every individual. Both entities recognize that education and empowerment are the cornerstones of progress and positive change. Their collective efforts have given birth to a remarkable synergy where fashion meets philanthropy, and creativity becomes a force for education.
In this extraordinary partnership, fashion and education unite to create a world of endless possibilities. It is a tale of synergy, compassion, and the potential for exponential change that inspires us all to do better and be better. As Huma and the Ohio chapter of TCF join hands, we witness a world where fashion creations are not just garments but symbols of hope and transformation. We also see classrooms filled not only with knowledge but also with dreams and aspirations, nurtured by the belief that education can change lives. This convergence is a testament to the fact that when individuals and organizations align their values and missions, they become a formidable force for good.