Huma Adnan makes Pakistan proud by showcasing craft at Turkish Ambassador's residence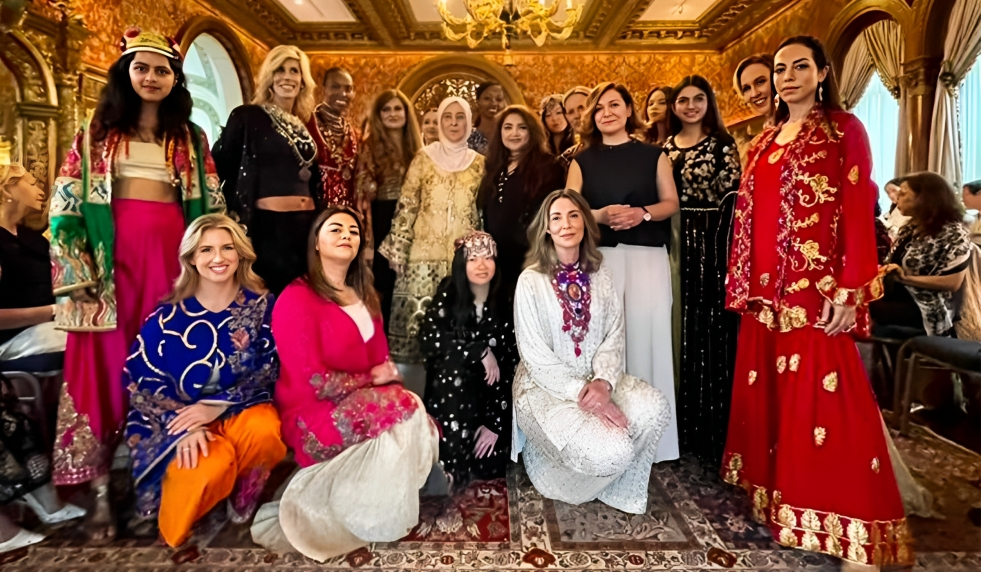 Renowned Pakistani fashion designer Huma Adnan recently achieved a moment of immense pride and recognition for her exceptional talent as her collection was invited to be showcased at the residence of the Ambassador of Türkiye, a UNESCO heritage site in Washington DC. The event, hosted by the Turkish embassy, brought together esteemed guests and dignitaries, including the wives of ambassadors from various countries. The American Muslim & Multifaith Women's Empowerment Council played a significant role in providing a platform for refugee women to display their talents and acquire skills for economic independence.


The exclusive event at the Ambassador's residence was graced by the presence of First Ladies from different countries, who wholeheartedly appreciated the culturally rich craft presented by Huma Adnan. The exquisite display of Pakistani art captivated the guests, with many First Ladies expressing their admiration and placing orders to keep a piece of Pakistan's artistic heritage with them. Huma Adnan's latest collection masterfully blended traditional elements with modern trends, resulting in timeless and elegant pieces that exuded style and sophistication. Each creation showcased during the show was a testament to Huma's exceptional skill and artistic vision, further cementing her status as one of Pakistan's most talented and celebrated designers.


The event not only celebrated the beauty of fashion but also carried a profound message of empowerment and inclusivity. The American Muslim & Multifaith Women's Empowerment Council played a pivotal role in creating a platform for refugee women, allowing them to showcase their talents and acquire valuable skills that would enable them to become economically independent. This initiative aligns perfectly with Huma Adnan's values, as she has consistently worked tirelessly to uplift and empower displaced women. In a remarkable moment during the show, Inci Mercan, the First Lady of Turkey, graced the runway by opening the show for Huma Adnan. Draped in a breathtaking, hand-crafted jacket, the First Lady epitomized the essence of elegance and grace.


The international models who walked down the runway in Huma's vibrant creations left the audience mesmerized with their poise and confidence, showcasing the seamless fusion of Pakistani art and contemporary fashion. The invitation to showcase her collection at the Turkish Ambassador's residence marks a significant milestone in Huma Adnan's illustrious career, putting Pakistan's fashion industry on a global pedestal. Her talent and dedication have not only brought her recognition but have also uplifted the image of Pakistan on an international level.

Huma Adnan's contribution to the fashion world and her commitment to empowering women, especially refugees, is an inspiration for aspiring designers and advocates of women's rights across the globe. As Pakistan celebrates this moment of pride, Huma's success shines as a beacon of hope, exemplifying the boundless potential of Pakistani talent and creativity on the global stage.