Empowerment Through Crafts: Progress In Pakistan's Ghizer Valley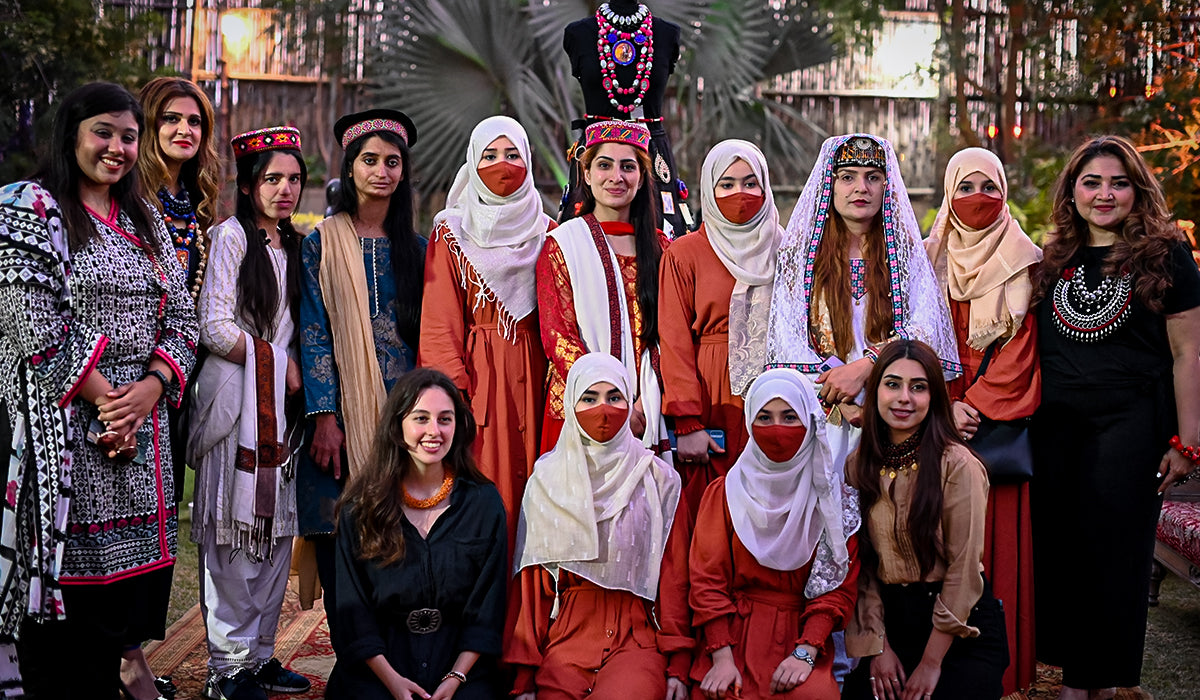 In recent years, the Aga Khan Economic Planning Board for Pakistan (AKEPBP) has been working to support women's economic development in the Ghizer Valley area of Northern Pakistan. This initiative has included partnering with fashion designers Huma Adnan and Amir Adnan to provide a three-month training course to local craftswomen, empowering them financially, and helping polish their business acumen. 

The goal is not only to facilitate these women in a way that is cathartic and therapeutic but also to standardize the system of registration of suicides in Pakistan. The stories of some of the artisans, such as Shaheen, Abida, Nazneen, and their peers shed light on the challenges these women face, the impact of the AKEPBP's initiatives, and the importance of uplifting women in developing economies.
Shaheen, Abida, and Nazneen are three of the artists who have benefited from the AKEPBP's training program. They come from the Ghizer Valley, an area that is unfortunately associated with beauty and pain. One of the more beautiful regions in Pakistan, the hounding reality of Ghizer Valley carries with it alarmingly high suicide rates among women. In fact, according to research conducted by the Craft Stories team, between 2000 and 2004, 49 women committed suicide in the area, owing to psychological distress and lack of psychiatric aid. 
Despite this challenging backdrop, these women have found hope through the AKEPBP's initiatives. The training program provided by Huma Adnan and Amir Adnan taught them how to improve their craft whilst making it commercially viable. This training was critical for these women, many of whom had been doing embroidery work in Ghizer for years but had never realized the full potential of their skills.
For Shaheen, the training program was a life-changing experience. As a graduate, she had always dreamed of doing more than just embroidery. The AKEPBP gave her the opportunity to do just that, bringing her to Karachi to learn from two of Pakistan's leading designers. "I am thankful that Huma Ma'am and Amir Adnan Sir helped us learn everything we did," she says. "They explained to us how we could better our work to be able to capitalize upon it."
Abida echoes Shaheen's sentiments, explaining that she had been taught embroidery after finishing her matriculation but had never realized the full potential of her skills until she began working with Huma and Amir Adnan. "I didn't even know that we could do so much more with our skills until we were taught the same," she says.
Nazneen had always been intrigued by the world of design, having learned the basics from her aunt. Back home in Ghizer, she had opened a shop and was making wallets for men, cushions, and other common-use items. The training program in Karachi gave her the opportunity to acquire new abilities and take her profession to the next level. "I am absolutely thrilled at having received this opportunity," she says.
The impact of the AKEPBP's initiatives extends beyond the craftswomen who directly participated in the training program. After completing their training, Shaheen, Abida, Nazneen, and their peers trained 40 more potential women in Ghizer, empowering them to start their own enterprises in their villages. This cascading effect will help to create a sustainable ecosystem of economic empowerment in the area, providing opportunities for women to support themselves and their families. 
You, too, can support our Ghizer Valley and Afghan artisans by purchasing their work, and spreading the word about the same.