Huma Adnan leads nation to pride by heading workshop for the Victoria and Albert Museum in London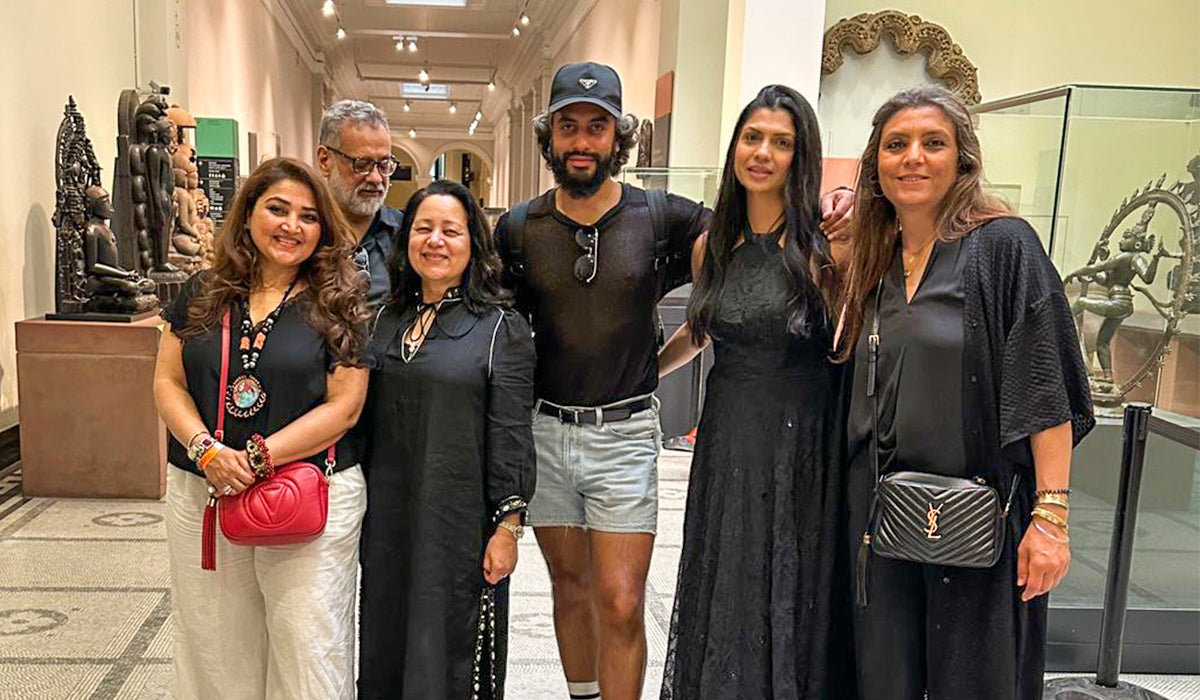 In today's fast-paced and interconnected world, it is crucial to pause and reflect upon the experiences and stories of refugees. In an inspiring collaboration, celebrated Pakistani designer and sustainability advocate Huma Adnan helmed a workshop titled "Compassionate Jewellery" at the prestigious Victoria and Albert Museum (V&A) in South Kensington. This unique event, which was scheduled for Monday, June 19, and Tuesday, June 20, 2023, invited participants of all skill levels to explore their creativity and express compassion through the art of crafting exquisite jewellery pieces.


Huma is renowned for her innovative designs and commitment to sustainable fashion practices. She has become a powerful voice in the fashion industry by empowering inclusive communities, particularly Afghan refugee women living in Pakistan. As a livelihood collaborator with the United Nations High Commissioner for Refugees (UNHCR), Huma works tirelessly to create opportunities for women, enabling them to thrive, support their families, and have a voice in crucial familial decisions.
Huma's workshop further epitomized her mission to combine contemporary design with traditional values and promote social justice. By fusing conscience and style, she always aims to empower individuals to express their compassion and empathy through the creation of unique jewellery pieces. Through this immersive experience, participants were encouraged to channel their emotions and personal stories into tangible expressions of compassion.


Hosted at the iconic Victoria and Albert Museum, the workshop provided an ideal environment for participants to explore their creative potential while reflecting on the experiences and stories of refugees. Regardless of their skill level, attendees had the opportunity to learn from Huma herself, benefiting from her vast expertise in the realm of sustainable fashion and design. The event encouraged participants to engage with their emotions, delve into their own narratives, and channel their insights into crafting jewellery that represents their unique perspectives.


The jewellery-making process during the workshop served as a powerful medium for storytelling and empathy. Huma guided participants through each step, ensuring that they understand the techniques while also encouraging them to infuse their personal narratives into the design. By combining various materials, textures, and colors, participants had the freedom to create jewellery pieces that symbolize their compassion for refugees and their dedication to social justice.

In addition to promoting social justice, Huma's work emphasizes sustainable fashion practices. As an advocate for green measures within the fashion industry, she strives to minimize waste, reduce environmental impact, and promote ethical sourcing of materials. By incorporating sustainable principles into the workshop, Huma encourages participants to consider the environmental implications of their creative choices and guides them towards adopting more sustainable practices in their own lives.

Huma's "Compassionate Jewellery" workshop at the V&A Museum is a testament to the power of creativity, empathy, and social consciousness. Through her innovative designs and commitment to sustainability, Huma continues to empower individuals to express compassion for refugees and marginalized communities. By engaging in the art of jewellery-making, participants gained a deeper understanding of the refugee experience and contributed to a more inclusive and empathetic society. Huma's work serves as an inspiration for the fashion industry and beyond, demonstrating that style and social justice can coexist harmoniously while making a positive impact on the lives of others.